Masksup Materials
With the growing threats, it's of the utmost importance to keep yourself safe and healthy. Been shown to be airborne in nature, meaning that it can be inhaled substances if you are not properly prevented.
Our masks can keep you safe from particles that are larger than 0.1 microns. Specially crafted to effectively filter out PM 2.5 particles, Mäsksup masks offer a high level of prevention from dust, pollen, shavings, and mold found in poor air quality.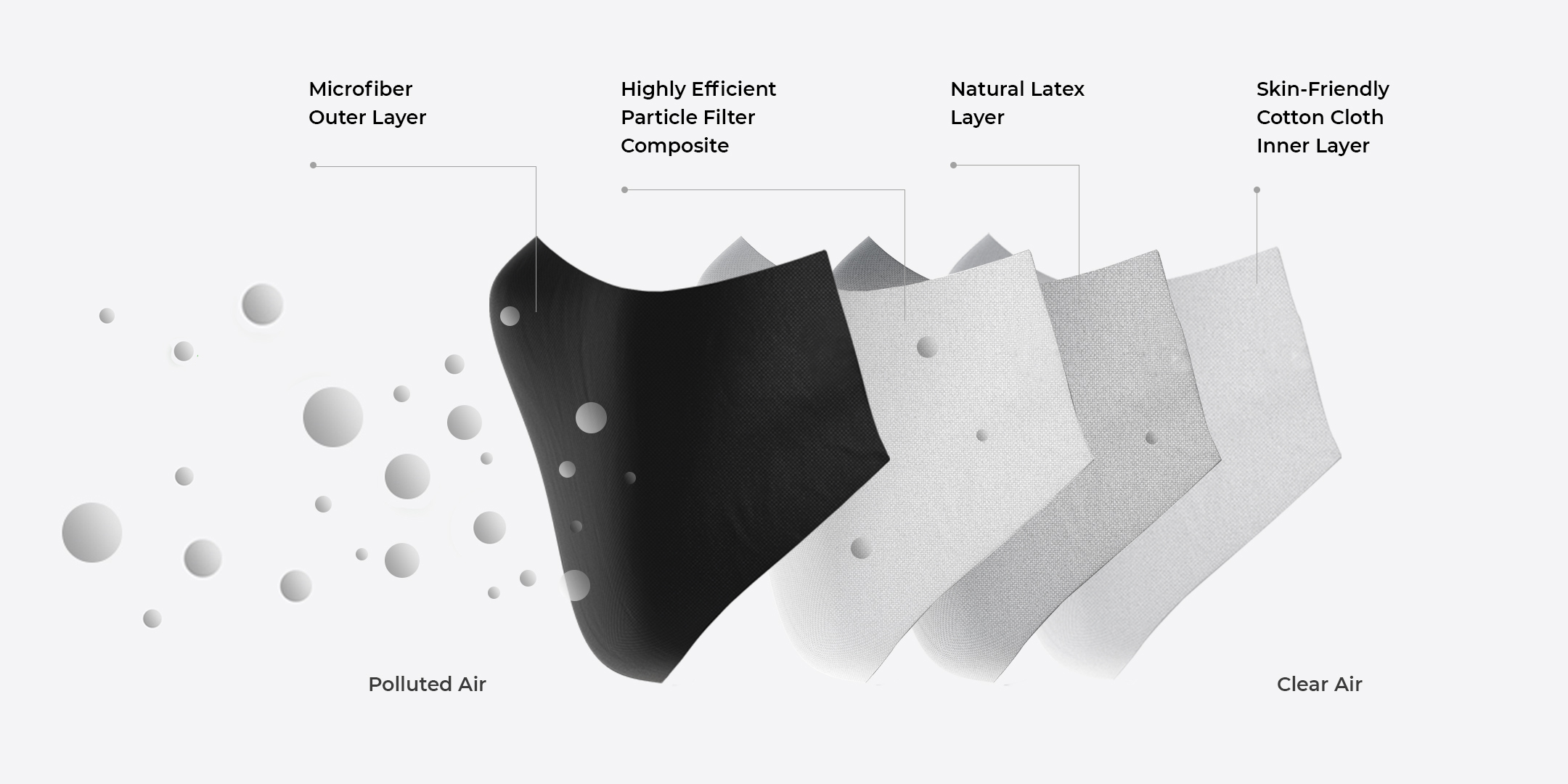 Our Materials
Our reusable mask has four layers with a microfiber outer layer, a skin-friendly cotton cloth inner layer and most importantly, two layers of filter media sewn into the middle of the mask: a highly efficient particle filter composite and natural latex layer. Masksup is also printed with safety for respirator inks and dyes.
How to Use
Before your first use, completely wash the mask using any soap and immerse it in boiling water for a few seconds. Allow to fully dry before using.
After 10 hours of continuous usage, gently wash the mask by hand or scrub with a soft brush and clean it by immersing it in boiling water for a few seconds. Hang it up to dry and do not wring water from the mask.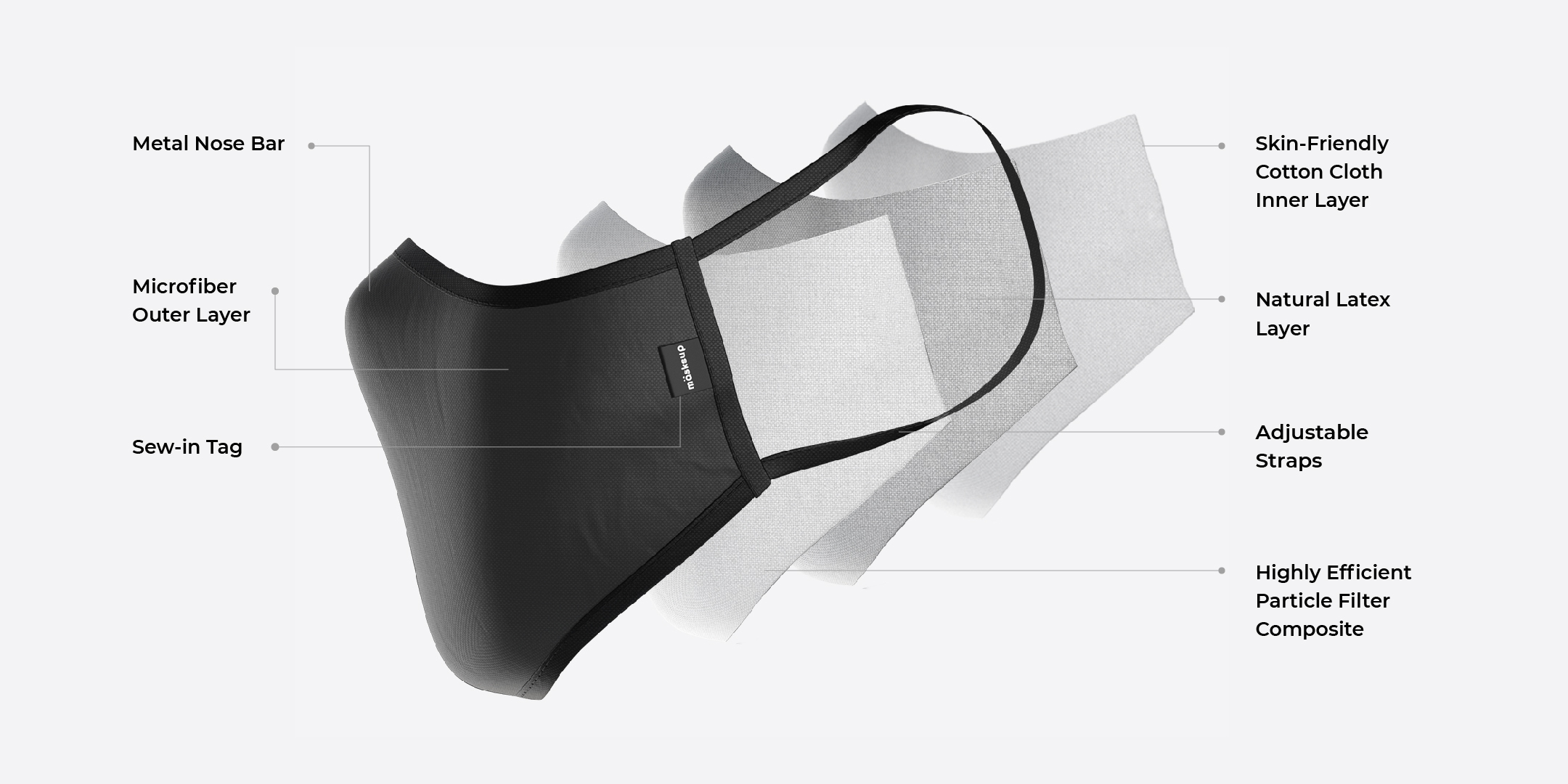 All About Natural Latex
With the rising popularity of our stylish and versatile face masks, we have received many questions in regards to our use of natural latex in their construction, as some customers do have sensitivities or allergies to this material. We are more than happy to address these questions and provide more information about the material itself!
1.5mm Natural Latex Layer
While we do use it to produce our professional level tested and certified masks, it is not a primary material. Rather, it is a 1.5mm layer insert in the center of the mask, resting between a skin-friendly cotton cloth inner layer and the filter and outer layer. This way, the natural latex is never in direct contact with the skin when you wear any of our face masks, lowering the risk of an allergic reaction if you do have a sensitivity or allergy.
Our Use of Natural Latex
Natural latex is a material commonly used in medical practices and the creation of medical-grade masks, such as surgical masks. This is because natural latex is impermeable, which means that no liquids or gas can pass through it. In other words, natural latex helps keep out allergens and other particles.
Additionally, natural latex is more environmentally friendly to source and produce than synthetic latex. Rather than being produced in a lab or factory, natural latex starts as a milky white liquid that comes from the Hevea-Brasiliensis tree, also known as the rubber tree. It is then thickened before being used in production of various products. No chemicals are involved in the creation of natural latex, minimizing the impact on the environment.
Children's Reusable Masks
In this day and age, keeping our children safe and protected from all sorts of dangers is of the utmost importance. One of the easiest ways to do so? The perfect reusable mask. Not only do masks help protect against pollutants and allergens like pollen, but they also can help filter out particles that have the potential to cause illness or disease.

When searching for the right reusable mask for your children, you need to look at the most effective options possible in order to keep them safe. But what aspects should you be considering and avoiding?
What to Avoid: Polypropylene
Most children's masks are made with polypropylene, which does help somewhat with protection, but can degrade over time or when exposed to airborne oil mists. Additionally, this material can cause irritation and doesn't help protect against particle.
What to Look for: Natural Latex
The best material for protection against particles is natural latex. This material is found in 90% of flowering plants, or angiosperms, and serves mainly as a defense against herbivorous insects. It is a complex emulsion of proteins, alkaloids, starches, sugars, oils, tannins, resins and gums that coagulate once exposed to air, protecting exposed areas of the plant. Natural latex is used in many medical-grade products, such as latex surgical gloves, due to its antibacterial properties.
Why We use Natural Latex
Because natural latex has amazing protective properties, we've included it in all of our masks. Not only does it protect you from particle on the outside of the mask, it also helps to purify your breath and contain the particle within your mouth. Additionally, natural latex is long-lasting, highly elastic and breathable, making our masks comfortable for children to wear for long periods of time without respiratory issues or distress.
Certificate of Compliance regarding CE Directive of PPE product - Natural Latex Mask
Certificate of Compliance regarding CE Directive of PPE product - Disposable Mask